Push and Pull
I love my family, but sometimes I just can't get away from them soon enough. Take this morning for example. I knew I'd just have Cakes until noon as I had an afternoon class. But I was tired, PMSing, and stressing about my coursework. Cakes was picking up on my mood and was not at her best. I took her to the park, where I continued to be pissy and bored. I rushed her back home a little earlier than necessary to get ready to go. I barely said hello to McHotty and couldn't get out the door fast enough.
Do you have these days? The funny thing is, a few hours later I was sitting in a cold, air-conditioned classroom being bored by a presentation, wishing I was at the park with Cakes. I made it home a little earlier than usual and could have gone for a latte or done a little shopping, but instead I came straight home. Walking down the street, I saw McHotty and Cakes in the distance, hand in hand, returning home. I quickened my step to catch up to them.
***
I have no ambivalence about leaving my family next week for a road trip to BlogHer with some of my favourite pals (just nine more sleeps!). Check out our
Eco Trippin'
page and leave us your green travel suggestions.
Speaking of the road trip, do you think it'd be better to drive to Chicago via Sarnia or Windsor? Would you rather spend the night in
Kalamazoo
(yes, the Kalamazoo of which Johnny Cash sings)where there are five breweries, or
Frankenmuth
, where there's a FUDGE factory? Decisions, decisions.
One more thing: have you taken the
BlogHers Act Canada
survey yet? I'm voting for Child Poverty (check out today's editorial in the Toronto Star about child poverty in Ontario
here
).
You have until July 22. Get over there and make your voice heard!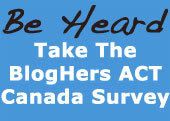 Okay I lied, there's still one more thing: Racy's back at
Hot and Bothered
and she's chatting about taking it up the ass. Go on over. I know you want to.
Labels: on motherhood