Uninvited Guest
On a lighter note, something funny happened the other night. We had our neighbours over for dinner. As we sat on the patio enjoying cocktails, McHotty opened the BBQ and lit it. A moment later he exclaimed, "oh, oh!" and jumped back, frantically trying to turn off the gas. Now, McHotty being a firefighter, it was a rather unsettling to see him startled by the BBQ like that, so were a little alarmed that the thing was about to blow up or something.
Turns out there was a mouse hiding out in there.
So, we extended cocktail hour, giving the BBQ a little extra time to burn off mouse germs before getting dinner ready.
Later, we're eating dinner when one of our guest exclaims, "oh, oh!" and pushes his chair back from the table. The furry fucker had returned and ran over his foot!
We spent the rest of the dinner with the candles under the table. I ate in the lotus position.
***
We are getting ready to narrow our focus over at
BlogHer's Act Canada
. We have decided to take a two-pronged approach to the environment: we'll tackle a national issue as well as issuing monthly personal challenges to help us all learn how to be more environmentally friendly as individuals. But first we need to select one national issue to focus on. Please take part in our survey and vote by
August 19, 2007
: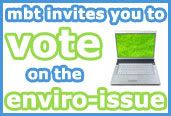 Labels: the homestead